A FAMILY COMMUNITY IN MOBILE, ALABAMA
_____________
Glen Arbor is a 112 unit multifamily apartment community located on Somerby Drive in west Mobile, Alabama. Glen Arbor stands in a private residential area minutes away from Optimist Lake, Providence Hospital, and Mobile Regional Airport. This community has one, two, and three bedroom apartments offering each resident a spacious, energy efficient living space in a quiet residential neighborhood.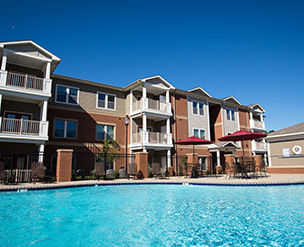 Amenities
UNIT AMENITIES:
Microwave
Washer/Dryer Connections
Ceiling Fan
Ice Maker
Garbage Disposal
Cable-Internet Connections
Spacious Front Porch
Energy Star Appliances
PROPERTY AMENITIES:
Expansive Swimming Pool
Kid's Splash Center
Clubhouse
Business Center
Fitness Center
Basketball Court
Picnic Area with Gazebo
Picture yourself in our new and conveniently well located one, two and three bedroom apartment homes.
Lifestyle made affordable in our classic homes offering:
Spacious and modern floorplans • Individual private balconies • Energy Star appliances in all kitchens • Exterior Storage closets • 1,2 and 3 bedroom ADA accessible • Laundry Rooms with washer/dryer connections • Cable internet ready • Ceiling fans
Glen Arbor Contact Information
______
1100 Somerby Drive
Mobile, AL 36608
Ph: 251-239-2903
Want to Learn More About Glen Arbor?
______
I have been a resident for 5 plus years, and I love
living here because of the family atmosphere,
the peace and quiet, the up keep of the property and
awesome management.
I moved into my apartment in July of 2007. I was one of the first to move in.
I enjoy living here. My apartment is nice and the size I was
looking for at the time. When there is a problem it's always
been taken care of promptly and I really appreciate that!!
I like a nice, peaceful place and I feel like we have that there!
I hope to be here from now on.
J. Godwin
I have lived at Farmington Hills apts. since losing my husband in 2014.
This apartment complex is well kept up. If you have any problems
or repairs needed all you do is call management and it is taken care of,
and fast too! I feel really safe and secure here. There is also activities
going on at least once a month at the clubhouse. Also this is a very
quiet place to live with good people. I feel very blessed to live here.
I love the apartment itself. It's so spacious, and the floorplan is beautiful!
I've lived in just about every complex in this area, and
Greystone is by far the nicest.
I like living at Regis Square apartments because the apartments are
very nice, very quiet, very good neighbors and good property
manager. I have lived in this apartment for 9 years
and hope to continue.